Corporate ProfilesCompany
Corporate Profiles
| | |
| --- | --- |
| Company Name | NISHIMURA MFG. CO., LTD. |
| Founded on | January 10, 1946 |
| Representative | Hisato Nishimura, President |
| Incorporated on | April 1, 1957 |
| Offices & Factories | |
| Capital | 100 million yen |
| Number of Employees | 133 (as of April 1, 2021) |
| Business Activities | Designing, manufacturing, sales and maintenance of slitter rewinders and their related devices |
Message
from the President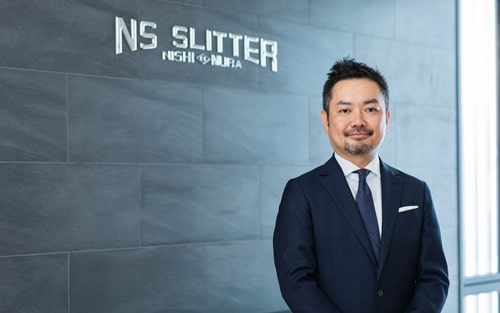 NISHIMURA Manufacturing Company started research and development of slitting and rewinding machinery in 1946. With establishment of our own design technology, we finally completed the very first slitter rewinder in Japan and started sales in 1954. Since then, we have been continuously devoted ourselves to making progress as a manufacturer specialized in slitting and rewinding machinery.
With continued support from our customers, "NS SLITTER" is now well known as high quality and high performance slitter rewinders not only domestically but also widely abroad. Looking back on our history, I realize that since our first sale to a supplier of gold and silver thread for Kyoto Nishijin fabric in 1954, our products have been utilized in diverse industry segments including production of paper, film, foil and metal as well as processing of photosensitive materials, audio tape, self-adhesive materials, wrapping materials and nonwoven fabric, and moreover, applications of carbon materials, display materials, electronical materials and lithium rechargeable batteries these days. We are proud to be able to contribute to people's lives in many aspects with our products.
Although a surge of technological innovations has been observed in every industry segment lately, we will continue committing ourselves to advancing our technology and improving our service quality in order to fulfill our customers' new needs.
Lastly, I deeply appreciate your continued support, which encourages NISHIMURA to challenge its limits of technology and potential.
Hisato Nishimura
President
NS CORPORATE
VISION 2021
Environmental Statement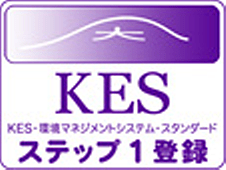 KES Step 1 certified.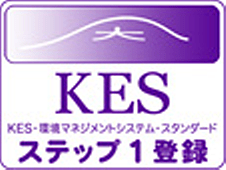 KES stands for Kyoto Environmental management system Standards, which are the standards started from Kyoto where the Kyoto Protocol was concluded.
Fundamental Philosophy
NISHIMURA Manufacturing Company commits itself to reducing environmental impacts and protecting the environment, being aware that to protect the global environment is one of the most important agendas which are common among all of humanity.
Guiding Principles
In order to reduce environmental impacts which all of our activities, products and service related to designing, manufacturing, sales and maintenance have, NISHIMURA Manufacturing Company promotes the environmental management activities based on the following principles with an aim of ensuring harmony with the global environment.
We should always be aware of the environmental impacts which our activities, products and service have. We are committed to continuously improving our environmental management activities while promoting prevention of environmental pollution and protection of the environment. The protection of the environment should include such activities as using sustainable resources, easing and adapting to climate change, and preserving biodiversity and the ecosystem.
We comply with legal and other requirements related to the environment with regard to our activities, products and service.

We work on the following activities as important environmental management themes with regard to our activities, products and service:

・Reduce office paper consumption
・Raise awareness about the environment through keeping the inside and outside of the factories clean
・Raise awareness about the environment through promoting collection of plastic bottle caps to support children's vaccination funds
・Promote green movement based on biodiversity

I ensure that this environmental statement will be widely disseminated within the organization and also made available to general people in order that every one of us can actively practice activities to reduce environmental impacts.
We actively participate in local activities to improve the environment.
In order to achieve the above principles, we will promote our environmental management activities by setting goals and periodically reviewing them.
Adopted on October 1, 2013
Revised on October 3, 2016

Hisato Nishimura
President
NISHIMURA MFG. CO., LTD.